Click the "Search Content" button to find resources that you can use in your Classroom.
Click the "Search Content" button
This will open a window allowing you to narrow down your search. You will see several different tabs that you can click on.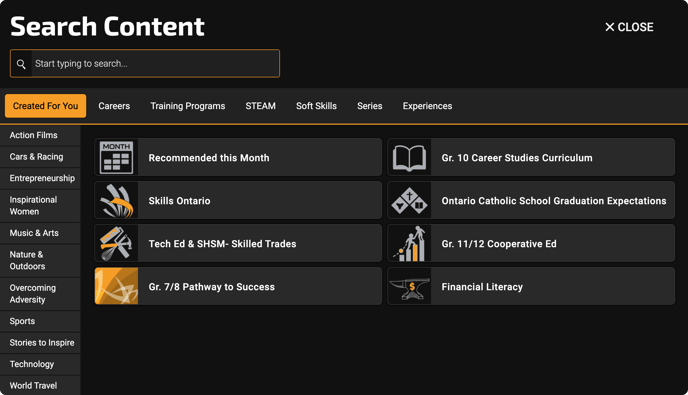 Created For You
The created for you tab is where you can find content that our education team has aligned to your local curriculums. If you would like Edge Factor to align our content to a specific curriculum, please contact us.
NOTE: If you aren't seeing local content, go to your account settings and check that your location information is accurate and up to date.
Careers
The Careers tab allows you to explore the resources that Edge Factor has created for each industry. It allows you to see/show a "day in the life" of a variety of industries. Simply select an industry from the list on the left and begin learning about the industry, careers, companies, and technologies that people are using to change the world.
Training Programs
Learn how your students can begin preparing for a career today. We are constantly adding content based on specific training programs. They are location specific. Some examples are Skills Ontario, HTEC, CTE, Jumpstart and SHSM.
STEAM
Show students how the STEAM topics you're covering in class are relevant and how these topics are used in the real world.
Soft Skills
Our popular Soft Skills tools include videos, lesson plans, and interactive activities that teach students, job-seekers and employees about ethics and employability skills. These tools cover topics like, Entitlement, Communication, Leadership, Teamwork, etc.
Series
The series tab features all of our films and TV shows. Edge Factor believes in the power of storytelling. Our stories captivate audiences, open the door for more in-depth teaching moments, and become the foundation for all of our accompanying videos and activities that showcase careers and make STEAM relevant.
Experiences
There are often Awareness Days and Months that we celebrate and provide content for educators to use. For instance, on International Women's Day, we have a row of content that features Female Leads. This is a great tool for educators to quickly identify content that you can use each week.