As a district administrator you are able to manage the content that your schools have created (i.e. Profile Page or one of their featured Programs).
1. Select a school
A. Click on the settings icon and select "My Account".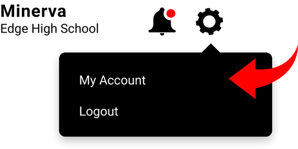 B. If Edge Factor set you us as district administrator you will see a yellow bar at the top of your page. This will show the school account that you are currently using (i.e. Edge High School).
If you click on the dropdown you will see a list of the schools in your district. You can switch between schools by clicking on another school (i.e. Valley High School).

2. Open your "Create" page
Click on "Create" in your sidebar. This will bring you to the schools' create page.

3. Create or modify content
On this page you can either create new content or modify existing content that has been published.