After you create your 'School Profile', you can add 'Program Profiles' to showcase the specific programs your school offers. This article shows you how.
Before you can upload your school's programs to the Edge Factor platform, you must create your School Profile. Once your school profile is complete, you will be able to create Program Profiles.
Note that in order to build your Program Profiles using the instructions below you will want to have your school program images and videos handy.
To Create Your Program Profiles
Select 'Program Profile' located in the left hand navigation bar under 'Create'.

This opens up the Program Builder. The builder will take you through 6 steps to create your school's Program Profiles.
STEP 1: Welcome Tutorial
This '
Welcome
' step has a tutorial video for you to watch on how to build a school program profile.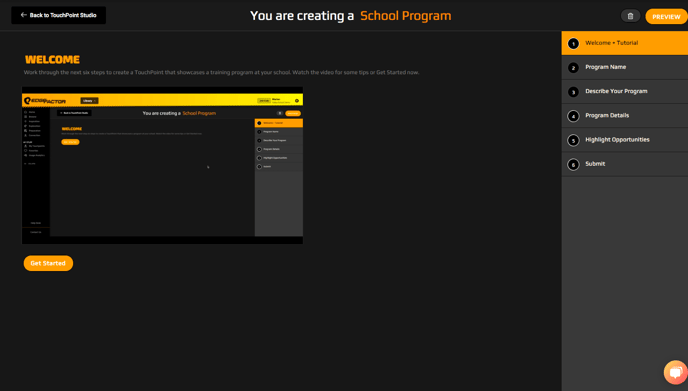 STEP 2: Add Program Name
Add the name of your school program to the
'Name of Program'
box.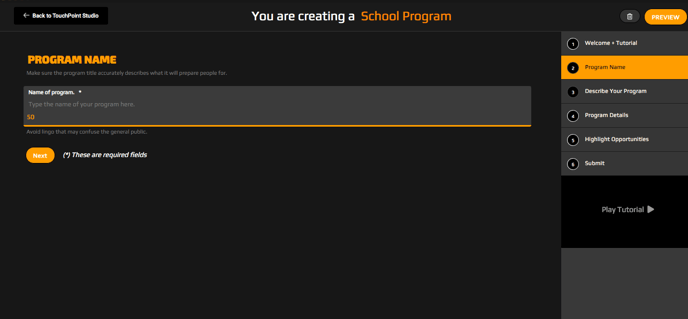 STEP 3: Describe the Program
Add a description for your program in the 'Program Summary' box.

Add two Images and a Video: upload a thumbnail image, a background image and a video showcasing your program. These can all be added using the 'Choose File' button each time and selecting a video or image from your desktop.

It is very important is to select the industry that your program relates to. This will ensure your program appears in the correct places on our platform. Select the checkbox of the applicable industry for this school program you have been working on.

Click on Next (or select Step 4) in the right hand panel.
STEP 4: Program Details
There are a number of lists to add in this step. Add the items that are important to know about the program. Click on the plus button and add items to each list as instructed.
Click Next (or select Step 5) in the right hand panel.
STEP 5: Highlight Opportunities
Add another list of items explaining future career options.

Click Next (or select Step 6) in the right hand panel.
STEP 6: Submit Your School Program Profile
Select the Submit button. Your profile will be sent to our team and someone will be in contact with you as soon as possible. At any time you can preview what the profile will look like on the front end to users.