Showcase your Company on the Edge Factor Platform by creating a Company Profile for FREE!
If you do not have a Premium Edge Factor membership, that's okay - you can still add your Company Profile for FREE. Simply complete the Form on this page: https://offers.edgefactor.com/companies and Edge Factor will create your Company Profile for you. You can add your Company bio, logo, website link, and optionally add a video and/or image.
If you DO have a Premium Edge Factor membership, you can add your Company Profile right in your account. Here's how:
If you are an Administrator of your Edge Factor Business Account you will be able to create a 'Company Profile' on your company's behalf. This is an important step to make sure that youth and job seekers can get to know your company.
Select Company Profile underneath the Create heading in the left hand side navigation bar.

You are now in the Company Profile Builder.

The Builder is divided into steps, explained below. Each step has an instructional video to help you.
STEP 1: Tutorial Video
Watch the videos to get comfortable with the process to set up your Company profile.
STEP 2: Company Overview
This is the Company Overview section. Add your Company Name in the first field.



Add your company logo by clicking on the Choose File button to upload your logo.

Next, add a short paragraph to explain what your company does.
Then, there are 3 files you can upload to give visual context to your company: a short video showcasing your company; a photo to display if you don't have a video; as well as a background photo image.

Lastly, ensure you select the industry or industries that your company is part of. This ensures that your profile will appear in the correct sections on the Edge Factor platform.

Click on the Next button at the bottom (or click on Step 3 in the right hand window).
STEP 3: Company Details
These company details should automatically fill in for you as they are pulled in from your membership details. Check to see that all details are correct.
Make changes if necessary.

STEP 4: Opportunities We Offer
Do you offer Tuition reductions, Retirement plans or other opportunities? Fill in these boxes to help youth and job seekers further understand your company. Simply select any opportunities you would like to highlight that you offer.

STEP 5: Submit
Now you have completed your profile you need to submit it to the Edge Factor Team. Click on the Submit button and someone will be in contact with you as soon as possible.

At any time while creating this profile you can preview what it will look like to other users. Click on the Preview button in the top right hand corner.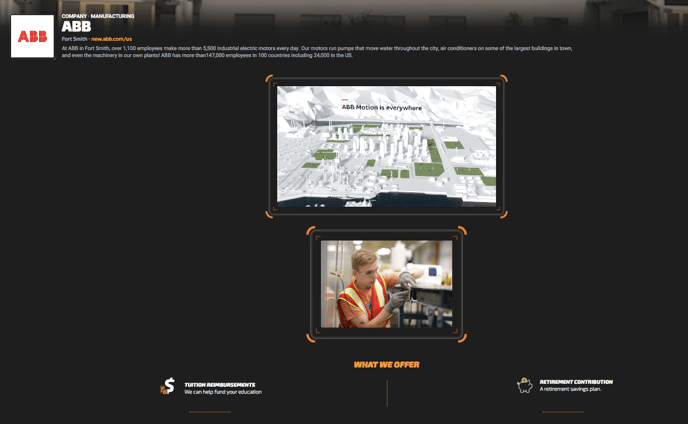 It's a good idea to create your Career Profiles next!