We're guessing you created a free user account or you signed in through Google. We recommend you request to join your school or company. This will give you full access to the content and functionality on the platform! Here is what you need to do.
1. Find your Quick Account Code
Reach out to your account administrator and ask them to share your company or school's Quick Account Code. They can find the code by signing in, clicking Users in the sidebar, and then clicking the "Invite User" button. Click here to learn more.
NOTE: You may have already received your Quick Account code in a Getting Started with Edge Factor document.

2. Enter your Quick Code
Once you've logged in, click the Quick Code button. Now enter the Quick Account code that was provided by your school administrator. Then click the Join button.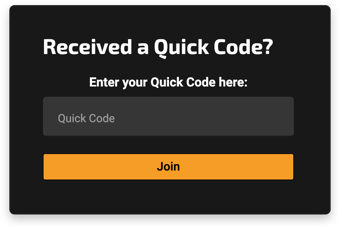 3. Wait for approval
Before you receive full access to your school's Edge Factor membership your account administrator will need to approve your request.
Click here
to learn how to set up your first class and how to enrol your students.