Create a Profile showcasing your school.
In the sidebar on the left is a section called your Story Studio. If you select this your Studio window will open.


Select Edit School Profile Page
You are now looking at the School Profile Builder which is a step by step process.

STEP 1: TUTORIAL VIDEO
This step has a tutorial for you to watch to understand what you need to do to complete a school profile. Click Get Started.
STEP 2: SCHOOL OVERVIEW
In this step you need to add your basic school information.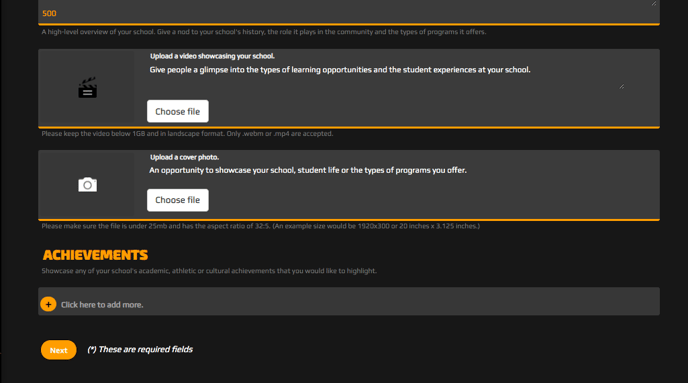 Click in each block and follow the instructions as to what info is required
There is another tutorial vide on the right hand side
Some fields require images. Click to upload your files.

Add Achievement by clicking on the + sign and adding items.
Click Next to move to the next step.

STEP 3 : SCHOOL DETAILS
This step should be mostly already completed for you as the data comes from your membership.

Make sure the details are correct and edit anything that needs to be changed.
Click Next to move to the next step
STEP 4: HIGHLIGHT OPPORTUNITIES
This step allows you to highlight specific achievements and opportunities of your school.

Click on the + sign and add 2 bulleted lists
Click on Next to move to the last step
STEP 5: SUBMIT
This step is simply for you to click on the submit button to complete your profile.




Your profile will be sent to a team member at Edge Factor to review. We will get your profile live on the platform as soon as possible.

If at any time you would like to see what your school profile looks like you can click on the preview button at the top right hand corner of the window.